Bombardier Belfast welcomes £4.8bn jet deal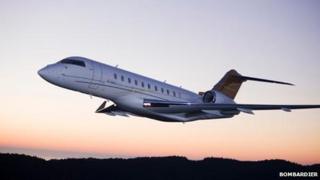 Bombardier managers in Northern Ireland have welcomed news of the largest business aircraft sale in its history.
Vistajet, a private jet charter firm, has signed a deal for up to 142 global business jets in a deal worth more than £4.8bn (US$7.8bn).
Bombardier Aerospace, Belfast, makes a number of components for the jet range.
In a statement, management in Belfast said the factory played a major role in the business jet sector.
"This order - the largest ever business aircraft sale in Bombardier's history - will help to sustain jobs and secure our long-term future, in addition to benefiting our local supply chain," it said.
"Bombardier in Belfast is responsible for the design and manufacture of a range of parts for the global aircraft family, including the forward fuselages, engine nacelles, horizontal stabilisers and other components."
The deal includes orders for 25 Global 5000 and 25 Global 6000 jets, parts for which are made in Belfast.
Steve Ridolfi, President, Bombardier Business Aircraft said they were "thrilled" Vistajet had picked them.
"We welcome Vistajet's ongoing commitment to global coverage within existing and developing new markets," he said.
"Our global aircraft are perfect for Vistajet's business strategy to deliver the ultimate business jet family to all corners of the world."
Bombardier, a Canadian company, came to Northern Ireland in 1989 when it bought Short Brothers plc from the UK government.
Alliance East Belfast MP Naomi Long has welcomed the contract.
"This is positive news for the company, their workers and for our economy, not just in East Belfast but in Northern Ireland," she said.
"This contract will help to secure and build for the long-term term future of Bombardier, including at their site in East Belfast. We have a very proud industrial heritage in this part of the city, with internationally competitive companies, and this contract will help continue this tradition."