Charity educating school children to report child abuse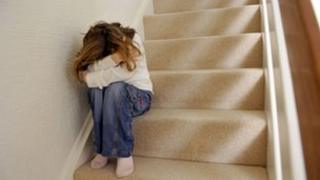 It is well documented that victims of child sexual abuse may wait decades before disclosing their torment.
Some may never say at all. Childline is now going into schools across Northern Ireland to try to educate children about this sensitive issue.
Children as young as nine are included in the talks, which involve volunteers sensitively discussing all sorts of abuse, from neglect to domestic violence to sexual contact.
Shaun Friel is national manager of Childline's school service: "I can understand why some people feel we are taking away children's innocence but the programme is delivered in a very child appropriate way.
"The feedback we're getting is that they are able to understand what is being discussed and the reality is they are facing these challenges and need to have somewhere to turn to for help."
A session was held for P6 and P7 children at Kilcooley Primary in Bangor on Monday. The children were asked what sort of problems they could imagine children having?
The responses varied from "bullying" to "being frightened" to "mummy and daddy fighting". The Childline volunteers were able to offer advice and support and remind the pupils that no matter - how big or small - their problems would always be listened to.
Jonny Hall is the P6 teacher: "We always encourage the children to talk to parents or teachers about any problems or concerns they may have, but having Childline there is crucial. We're delighted that they came in and tackled it in such a positive way."
Mr Friel added: "We know from our Childline services that children are generally over the age of 12 when they report sexual abuse to our counsellors. And by that stage they have often suffered for years.
"Part of the reason they've suffered for so long is that they haven't known what it is and no one has ever educated them or educated them in where they can turn to for help. What we're doing is going out and reaching these children earlier and making sure it doesn't happen in the future."
Childline is on target to reach every P6 and P7 pupil in Northern Ireland by the end of next year. The programme is delivered by volunteers who are provided with extensive training by the charity.