Millie Martin murder: Head injury a 'very common one'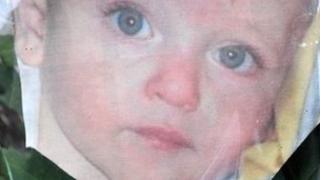 A paediatrician has told the Millie Martin murder trial that bruising to the head, of the type Millie suffered weeks before her death, is very common in children who are learning to walk.
Dr Joanne Nelson said the photographs she had seen of Millie would not have raised her suspicions.
They were taken by Millie's mother.
Dr Nelson said child abusers sometimes inflicted pain where bruising already exists to "camouflage" their activities.
The paediatrician who specialises in child abuse cases was also asked if the spread of bruising on an ear injury Millie had suffered seemed disproportionate, Dr Nelson said she had not seen it herself.
From the information she had been given, however, she said she would have been "concerned that we couldn't fully explain that injury".
Millie walked for the first time on her first birthday in September 2009, three months before her death.
Dr Nelson said: "Children at his stage have an immature gait and will fall and stumble frequently.
It was around the same time that Barry McCarney, who is accused of Millie's murder, moved into her family home.
He is also charged with sexual assault and causing actual bodily harm. He denies all the charges.
Millie's mother, Rachael Martin, has denied allowing her death.
She has already told the jury that, until the night Millie died, she had absolutely no suspicion that she was being abused,
Questioned by Ms Martin's barrister, Dr Nelson said it was entirely possible that numerous rib fractures, which the court has heard Millie suffered, could have gone unnoticed by a layperson.
She was also asked about an occasion when Mr McCarney is said to have called Ms Martin up to Millie's room and told her she had hit her head.
On that occasion, her lips were blue. Dr Nelson outlined several possible explanations for this, including her being suffocated by bedclothes or a hand. But she again said a layperson would not have been able to make the same assessment.
Under cross examination by the prosecution, Dr Nelson agreed that there was no doubt Millie had been abused and that the abuse had been "significant and violent".
Questioned by a lawyer for Mr McCarney about internal injuries to Millie, and how these could have been caused, Dr Nelson disagreed with evidence given earlier in the trial by the state pathologist Prof Jack Crane.
He had suggested there was a "reasonable possibility" that all Millie's injuries had been caused by an external blunt trauma such as a punch. Dr Nelson said she would have described this as a "remote" possibility.
Millie died from head injuries in the early hours of 11 December 2009.
Rachael Martin's defence case has now closed.