NI childcare costs top £16,000 for two-child family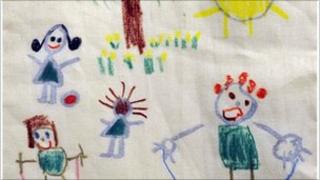 The average family with two children in Northern Ireland spends more than £16,000 a year on childcare.
The figure is contained in a report from the Employers For Childcare Charitable Group which surveyed almost 4,000 parents in Northern Ireland.
The charity is calling on the Stormont Executive to do more to alert parents to the assistance available.
Its chief executive Marie Marin said the survey painted a worrying picture for families.
She said the cost of childcare often eradicates the financial benefits of working, leaving parents "pay neutral".
"With many parents forced into reducing their working hours or leaving employment all together, it is paramount that the Northern Ireland Executive moves forward with the childcare strategy," she said.
Christine Osborne O'Toole has three children under 10 and was among the people who completed the survey.
"I was fortunate to be able to take a career break after my third child was born," she said.
"My childcare costs were working out at several hundred pounds more than my salary, so I would have been making a loss.
"I am now back working full-time, although my childcare costs are more than half my take home salary, I see this as temporary pain for long term career gain.
"I really think more government support is needed for parents, it shouldn't have to be a choice between kids and career."