Stormont faces £262m penalty in pensions split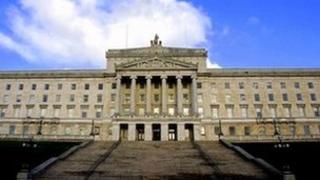 Finance Minister Sammy Wilson has told the Assembly that the cost of delaying pension reform legislation for a year totals £262m.
"The scale of the £260m cost is simply too much for us to manage and would seriously impact on the delivery of public services here," he said.
Stormont faces a penalty after the executive split on how to deal with the reform of public sector pensions.
Mr Wilson said the best way forward was speedy legislation at Stormont.
This would minimise the financial penalty and meet the deadline for reform of April 2015.
Mr Wilson said he was disappointed that his Executive colleagues had not accepted his recommendation that the best way to proceed and avoid delay is to give Westminster the consent to legislate the issue on behalf of Northern Ireland public sector workers.
Career average
The cost of delay, he said, is more than the entire budget of the Department of Trade, Enterprise and Industry.
He said the sum of £262m - which is what the delay would cost the NI Executive - would be equal to 8,000 full-time nurses.
Last week, Mr Wilson told the executive the reforms needed to be passed on a UK-wide basis. He said this was to avoid breaking parity with the rest of the UK and incurring penalties.
The reforms include cost savings of 7% and would see public sector workers collecting pensions based on career average rather than final salary.
Following contacts with Danny Alexander, Chief Secretary to the Treasury, Mr Wilson recommended that the executive agree to let Westminster take the lead and include Northern Ireland in its legislation which is already before Parliament.
But nationalist ministers refused to agree that there was not time for separate legislation at the assembly to allow MLAs to scrutinise the reform.
A vote was taken later in which a majority of ministers backed Mr Wilson. These included unionist ministers along with Alliance. However, nationalist ministers blocked his proposal, by insisting the vote be taken on a cross-community basis.
Speaking after Mr Wilson addressed the assembly on Monday, Ulster Unionist Leslie Cree said his party supported the implementation of the Pensions Bill.
"We would ultimately have liked to have seen it already passed through a legislative consent motion, given that the Executive agreed it on 8 March 2012," he said.
"The insistence of Sinn Fein and the SDLP to hold up this piece of legislation is typical of the hypocrisy in the assembly and we may now face a delay past the date which the Bill will be implemented in the rest of the UK, with financial consequences for Northern Ireland."
Trevor Lunn, Alliance Party, said: "The place to oppose these plans was at Westminster where our MP Naomi Long voted against it. We are now constrained to meet a set timetable and we will face a large financial penalty if we delay it."