Kettyle Irish Foods secures £1.2m Albert Heijn bacon deal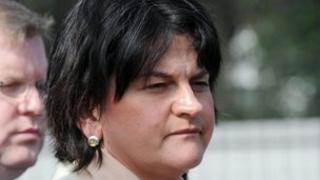 A Fermanagh food company has secured an export deal worth up to £1.2m.
Kettyle Irish Foods has been awarded a contract to supply bacon to one of Europe's top retailers in the Netherlands.
The Lisnaskea company, which specialises in dry aging techniques, has been supported by Invest NI.
The bacon, cured using seaweed, is to become the first Northern Ireland product to be part of the Albert Heijn supermarkets' "excellence range".
Enterprise Minister Arlene Foster said the company was well placed to supply bacon which showed high levels of sustainability and that included good standards of animal welfare.
She said she hoped further investment would follow.
"Other leading retailers in Europe are also starting to insist that suppliers show solid evidence of a commitment to sustainability," she said.
"It's a trend which could have a profound impact on the food businesses here and indeed throughout Europe."
The company's Maurice Kettyle added: "We were asked by the retailer if we could supply them with sustainably produced bacon from outdoor bred pigs, which we have been able to do.
"We decided to offer them a unique Fermanagh bacon from outdoor pigs that also features a distinctively different curing process using seaweed that's readily available around our shores.
"The buyers there loved our samples and placed a contract with us that could be worth around £1.2m over the next 12 months."