Altnagelvin Hospital fire: Five wards reopen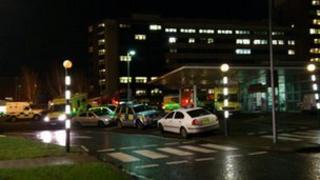 Five of the seven wards evacuated during Friday night's fire at Altnagelvin Hospital in Londonderry have reopened.
Two other wards remain closed and patients are being cared for in other areas of the hospital.
One hundred and twenty patients were moved due to the fire which broke out on the roof of a hospital building.
The hospital's emergency services are continuing to operate as normal and normal visiting arrangements apply.
The Western Trust has said an investigation is getting under way.
On Saturday, Health Minister Edwin Poots paid tribute to staff at the hospital.
"People went beyond the call of duty, through to the early hours of the morning, to ensure that everybody was taken good care of," he said.
"I want to express my thanks to the wonderful staff that we have in our health and social care system and in this instance in Altnagelvin in particular."
In a statement, the Western Health Trust said that while most patients were accommodated in other parts of the hospital, a "small number" of patients were moved to other "appropriate health and care settings" in Londonderry.
It said one patient from the Fermanagh area was transferred to the South West Acute Hospital in Enniskillen.