David Tweed abuse trial drawing to close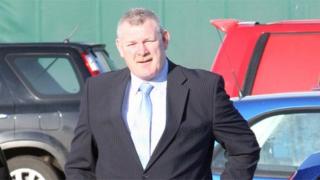 The trial of a Ballymena councillor for alleged child sexual abuse is drawing to a close.
David Tweed, 53, who played rugby for both Ulster and Ireland, is charged with abusing two young girls who are now adults, over an eight year period.
The prosecution urged the jury to deal with the case coldly and clinically, describing Mr Tweed as a "big physical presence, who made his presence felt".
The defence lawyer said the allegations were straight "out of the blue".
He told the jury they "could not convict based on logic and reason".
The defence barrister also said that flashbacks and memories that the victims have had have "grown to become distorted and disfigured with the passage of time" making the events "into something more sinister".
It is expected the jury will begin considering a verdict next week.