Narrow Water bridge: DUP wants probe into decision to grant EU funding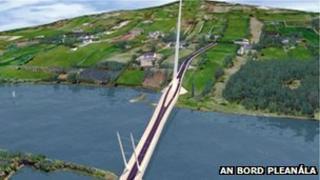 Northern Ireland's First Minister Peter Robinson has requested an investigation into the decision to grant European funding for the Narrow Water bridge scheme.
Last month, the European Union said it would give 17.4m euros to fund the single-lane cable bridge.
It will run between County Louth and County Down.
The bridge will be 660 metres long and could be open by 2015.
Planning permission has been granted by authorities on both sides of the Irish border.
Mr Robinson said: "We have money available for infrastructure projects and the case was made, very strongly, that these have to be to the infrastructure projects that come out at the top of the list and not what some people were able to choose that weren't even on it."
The DUP leader has also rejected claims by South Down MP Margaret Ritchie that he wanted money funnelled away from North-South infrastructure schemes towards community projects involving former loyalist paramilitaries.
Earlier this week, the former SDLP leader claimed that Mr Robinson wanted money diverted for community projects for loyalists because loyalist paramilitaries were "getting restless".
She told MPs he had complained to the Irish government about the matter.
"As far as the working class Protestant areas go, I do want to see them getting more funding because I do think they are getting a thoroughly bad deal at the present time and I will continue to argue for that, Margaret Ritchie or not," Mr Robinson added.