Court hears of thefts at Belfast's Royal hospital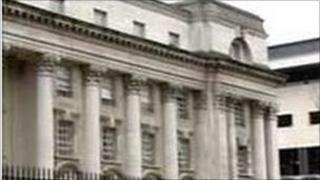 Intruders stole personal belongings from sleeping patients during a raid on Belfast's Royal Victoria Hospital, the High Court has heard.
Prosecutors said mobile phones, a handbag, watch and headphones were taken from its wards.
They claimed an elderly woman woke to find a suspect at her bedside. She then got up and challenged him and another person.
The court heard another victim was targeted while he was under sedation.
He realised someone was in his room but thought it was medical staff, a judge was told.
Details emerged as bail was refused to one of two men accused of infiltrating the wards at the hospital to steal from patients.
Gerard Madden, 21, of Aspen Park, Dunmurry, denies two counts of burglary and another attempted burglary charge.
Security staff at the hospital were alerted at about 03:00 GMT on 15 October.
Prosecuting lawyer, Fiona O'Kane, said an elderly patient had been awakened from her sleep by a man standing beside her bed drinking from a bottle.
After a second man appeared and pulled him out of the room the victim noticed her mobile phone was missing, the court heard.
Mrs O'Kane said: "She followed them into the hallway and demanded it back.
"She was plucky enough to challenge them.
"The first male who had been in the room pulled a number of mobile phones from his pocket and she retrieved it.
"The intruders were discovered in a third floor theatre area, claiming they had just been going for 'a dander'."
'Delirious'
The court heard searches uncovered a variety of other suspected stolen items, while more belongings were found on a stairwell.
Three patients, a man and two women, were said to have been targeted.
Mr Justice Burgess was told CCTV footage showed the suspects leaving the accident and emergency area and wandering through the hospital.
He heard that burglary charges were brought because the wards are closed to the public after 20:00 GMT, with access only gained by a swipe card system.
Defence counsel Michael Ward accepted that the allegations involved "an abhorrent course of conduct".
He said Madden had been brought to A&E by his co-accused after suffering a seizure.
"His recollection of events is somewhat scant," the barrister said.
"He would say he was quite delirious at the time owing to the seizure he had taken hours before."