Threat against Londonderry man Daniel Allen is lifted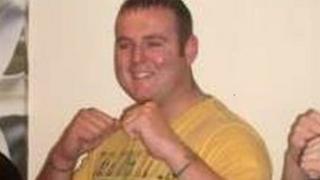 The mother of a man who was told to leave Londonderry or be shot has said the threat against him has been lifted.
Daniel Allen, whose brother Andrew was shot dead by Republican Action Against Drugs (RAAD) in February, was ordered out of the city last month along with another man.
His mother Donna Smyth said he had now returned home.
"He didn't think he should have been out in the first place, but these things happen and it has been devastating to us," she said.
"I was thinking am I going to have to go through the same thing again with Daniel?
"The whole family are just emotional wrecks at the minute.
"To get him home is just fantastic."
Andrew Allen, 24, from the Waterside area of the city, was shot at a house in Links View Park, Lisfannon, Buncrana, County Donegal.
The father-of two was one of several men forced out of Derry by RAAD last year.