Woman in hospital after school bus crash in Desertmartin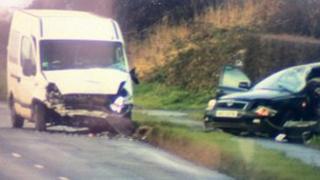 A woman is in a serious condition in hospital after a collision between her car and a school mini-bus near Desertmartin, County Londonderry.
The bus was bringing children to Kilronan Special School, Magherafelt, when the crash happened at Roshure Road on Friday morning.
Two pupils were taken to hospital as a precaution, as was their driver and escort. The pupils have been released.
The woman was driving one of two cars involved in the accident.
In a statement, the North Eastern Education and Library Board said the bus was privately hired to transport children to the school.
"Emergency services were called to the scene immediately," it said.
"The driver of the bus, along with the escort and the two pupils, aged 10 and 18 years of age, were taken to Antrim Area hospital as a precaution.
"The two pupils have been examined and have left hospital. The bus escort and the driver are still being medically assessed."