David Ford in plan to cut legal aid bill for civil cases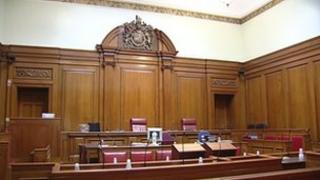 The Justice Minister, David Ford, has taken the first step to cut the amount of legal aid paid to barristers and solicitors in civil cases.
His department has outlined proposals to save millions of pounds in a range of cases such as child custody battles and divorces.
Under the plans, fewer barristers would be appointed to civil court disputes.
The bill for civil legal aid cases in Northern Ireland last year was just over £53m.
Strike
Mr Ford has previously faced down the legal profession in a battle over court case costs.
Last year, barristers and solicitors went on strike in protest at the minister's decision to reduce legal aid payments for criminal cases.
They eventually accepted new fees and the Department of Justice (DOJ) said that, and other changes, would save the public purse £20m a year.
However, Northern Ireland still has the most expensive legal aid system in the world, relative to the size of its population, and the minister is now turning his attention to civil cases.
Figures show that over the last 12 years, the local civil legal aid bill has increased by 368% - increasing from just under £11.5m in the financial year 1999-2000 to more than £53m in 2011-2012.
Currently, the cost for civil cases works out at more than £29 for every man, woman and child living in Northern Ireland.
'Confrontation'
In England and Wales it is about £17 per person while in Scotland it works out at just over £11.
On Thursday, the DOJ revealed details of the first stage of plans to drastically reduce the bill - by reducing the number of barristers involved in such cases.
As it stands, virtually everyone involved in a civil case like a divorce or a child custody dispute has access to a barrister.
The justice minister has claimed that is not always necessary and in future solicitors will have to seek authorisation before employing a barrister on their client's behalf.
He told BBC Radio Ulster' Evening Extra programme that he hoped the stand-off over the changes to criminal case costs would not be repeated as a result of his plans for civil cases.
"We are not in for a business of confrontation. Our business is to ensure that we can meet the...expenses for legal aid within a reasonable scale of costs for individuals, but in a way which is affordable for the public purse," Mr Ford said.
'Vulnerable'
However, barristers have rejected the claim that they are often employed unnecessarily and have insisted that they are essential in many cases.
Denise McBride QC, the deputy chair of the Bar Council for Northern Ireland, said: "In fact, in these cases we are dealing with some of the most vulnerable people in society and they are facing the might of the state - for example if the state decides to take a child into care.
"It's important that the rights of these parties are full represented," she added.
Round two of the minister's battle with the legal profession seems likely to be every bit as fractious as round one.
In addition to the move announced on Thursday, Mr Ford also plans to introduce new, lower payments for civil legal aid work and a number of other measures aimed at cutting costs.