Northern Ireland men on Portugal weapons charges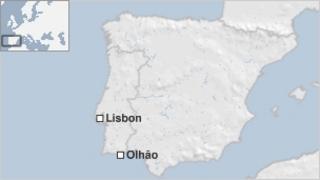 Two men from Northern Ireland are standing trial in Portugal on charges linked to an alleged attempt to traffic arms.
James Rice, 61, from Newry, and Conor Sheehan, 49, from Belfast, appeared in court in the Algarve on 8 November.
Two Portuguese nationals are also facing charges.
The Portuguese authorities are seeking the extradition of another man from Belfast in connection with the case.
He is John Gerard McCann, 53, of Brooke Manor, Black's Road.
The extradition proceedings against Mr McCann are ongoing at Belfast Recorder's Court.
The charges against Mr Rice and Mr Sheean are attempting to traffic weapons and associating with criminals. They followed a police counter-terrorist unit raid at a campsite in Olhao in July 2011.
The next date for a hearing is 5 December, when all of the accused in Portuguese custody are to appear.