Michaela McAreavey's family begin civil case in Mauritius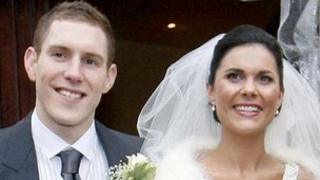 The family of Michaela McAreavey, who was murdered in Mauritius, have begun a civil case for damages against a paper that published pictures of her body.
The 27-year-old was killed at the Legends hotel in January 2011.
The Harte and McAreavey family are suing the Mauritius Sunday Times and its editor for damages believed to be in the region of £300,000.
It is understood to be the first case of its kind against a newspaper in the country.
On 15 July 2012, Mauritian Sunday Times Editor Imraan Hosany and the printer StarPrint published photos that the family understand were taken by police for investigation and were used in the trial before the court.
The paper's editor Imraan Hosany was later arrested and charged with outrage to public and religious morality for publishing the photographs.
He is currently on bail.
The family said the publication of the photos was a reprehensible act and constituted an outrage to the dignity of Michaela.
"By printing, distributing and/or causing to be published these photos of the late Michaela Harte body as taken by the police photographer, defendants had committed a serious and unforgivable faute towards the plaintiffs," they said in a document submitted to the court in Mauritius.
Mrs McAreavey was the daughter of Tyrone Gaelic football manager Mickey Harte.
John McAreavey and her parents and brothers, Mickey Harte, Marian Harte, Mark Harte, Michael Harte and Matthew Harte, are suing the publisher and the paper's editor.
Mr Hosany's lawyer, Mr Akil Bissessur, told Le Défi Quotidien that his client has not been officially informed of any complaint so far against him.
"It is premature to make a statement on the complaint of the family. As soon as I take note of its content, we will decide how to proceed. In any case, whatever the complaint, we will defend tooth and nail," he said.
In July, two hotel workers were acquitted of the County Tyrone woman's murder.
Former hotel workers Sandip Moneea and Avinash Treebhoowoon were cleared of Mrs McAreavey's killing by a jury at the Supreme Court in the capital Port Louis.
Detectives in Mauritius started a new investigation the day after the trial ended.