James Symington admits offences during Ulster Covenant parade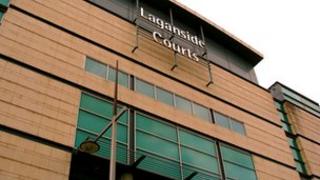 A 24-year-old man has appeared in court accused of drunkenly antagonising nationalist residents during the Ulster Covenant centenary parade in Belfast.
James Symington, of no fixed address, was arrested by police on duty at the parade in the city on 29 September.
At Belfast Magistrates Court on Wednesday, he pleaded guilty to disorderly behaviour and possession of Class B drugs.
He was given a three-month suspended jail sentence.
Obscenities
The judge was told that on the day of the parade police escorted Symington - who was wearing a Linfield top - away from the Donegall Street area in a bid to defuse tensions.
Prosecutors said he then started swearing and shouting obscenities at a PSNI officer.
Searches revealed a small plastic bag containing suspected herbal cannabis in his pocket.
The court heard that at the time, Symington had claimed that the drugs found on him were a legal high given to him by a friend.
Defence barrister Luke Curran said it was normal for his client to be wearing a Linfield top.
He explained that Symington had been turned away from his hostel that day because he had been drinking.
"He wasn't particularly doing anything but police moved him away, partially for his own safety," Mr Curran said.
"Wearing that type of top in the vicinity where that was going on, there was a risk."
'Volatile'
District Judge Mervyn Bates said it had been foolish of Symington to behave as he had in that area.
"This was a particularly difficult day police were dealing with in circumstances that were quite volatile, the nature of the parade and the crowd that was gathered from different parts of the city," the judge remarked.
He also told Symington: "What you were wearing was inappropriate in the circumstances of what was going on around you."
Judge Bates imposed three months for the disorderly behaviour and two months concurrent for possession of the drugs.
Both sentences were suspended for two years.
Warning the defendant that he was on the verge of custody, he added: "Just be careful where you are and what you are wearing."