Millie Martin trial: Mother denies she killed daughter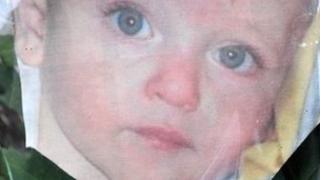 Millie Martin's mother has told her trial she "definitely" regrets allowing former partner Barry McCarney to move in with her.
Rachael Martin is accused of allowing the death of 15-month-old Millie in December 2009. She denies the charge.
Mr McCarney denies murder, sexual assault and assault occasioning actual bodily harm.
Ms Martin admitted she had not been responsible in allowing Mr McCarney into her home.
During cross-examination, prosecution lawyer Ciaran Murphy told her she was not just letting Mr McCarney into her life, but also into Millie's.
"Your principal responsibility was to keep your little girl safe," he said.
She had told the court that she found Mr McCarney charming, that he treated her like a princess and she was very happy with him.
"You were happy without giving much thought to it," Mr Murphy suggested.
She said she did not know him very well before he moved in, just weeks after their relationship began.
Asked if she regretted that, she replied: "Oh definitely".
Mr Murphy asked her if she thought it was a serious relationship and if there was any future in it.
"At the time it seemed to be a good relationship. It was still early days," she said.
Millie died from head injuries on 11 December 2009. Doctors who examined her in Enniskillen's Erne Hospital discovered she had also been sexually assaulted.
Earlier, Ms Martin told the trial she did not kill her daughter.
She was cross-examined by Mr McCarney's barrister who said that in 15 hours of police interviews she said nothing critical about her ex-partner.
She said she had described Mr McCarney as "sound", even though by that stage it was obvious that she believed he had killed her daughter.
Rachael Martin replied: "If any of it was obvious beforehand Millie would still be here".
The barrister said the police asked her if she could think of anybody that could have caused the injuries to Millie and she told them: "I can't think of anybody (because) I don't have anybody in my house."
The barrister said: "The reason you couldn't think of anybody was because you had done it".
Ms Martin replied: "Definitely not. You know what your client has done."
She added that Mr McCarney "would not have been near my child if I had known what he is and what he had done."
Ms Martin said at the time of the first police interview her "head was a mess".
"My daughter had just died. I wanted to tell them as much as I could," she said.
She denied ignoring Millie's injuries such as a bruised ear, a bruise and lump to her forehead and sore ribs.
Ms Martin said she had acted every time something had happened to Millie, but that she "didn't put it all together".