Fall in problems with school IT tests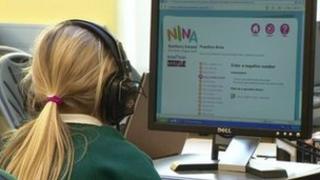 There has been a reduction in problems with school computer tests, the assembly education committee has heard.
Department officials said while investigations are ongoing, the potential cause of a technical glitch has been identified and an interim solution introduced.
Hundreds of primary schools in Northern Ireland had complained about the online numeracy and literacy tests.
More than 85% of schools have completed their assessments.
The Department of Education paid almost £1m this year to run the tests, which are designed to check on pupils' literacy and numeracy progress.
More than 50,000 P4 to P7 pupils completed the tests, but some principals have said they have concerns about the results reported to parents.
The assessments were introduced in 900 primary schools in September.