Belfast man David Osborne admits grooming girls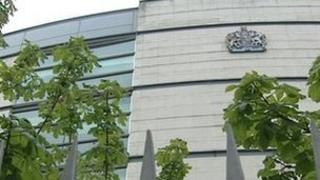 A 41-year-old Belfast man has admitted grooming three 13-year-old girls.
Belfast Crown Court heard that David Osborne, of Summer Street, sent them gifts, Valentine's cards and money. He also travelled to England to meet one of them.
He also sent lewd text messages and one of them an indecent image of himself. He was sent pictures of the girls.
The offences came to light when the mother of one of the girls saw some of the text messages.
Osborne pleaded guilty to one count of meeting a child following sexual grooming, two of attempting to meet a child after grooming and three charges relating to indecent photographs of children, all committed on dates between 17 January 2008 and 4 February 2009.
Judge Corinne Philpott QC said if the teenager he met at a hotel in England had not walked out on seeing that he was not the young man of 19 or 20 that he claimed to be, "one doesn't actually know what precisely he would have done on the day in question".
She added however that given the circumstances "it is reasonable to conclude that significant, intimate sexual activity could have taken place".
An earlier court heard how his offences came to light when the mother of one of the girls became concerned about who she was contacting on her mobile phone.
When she examined the phone and saw the content of some text messages she contacted police.
The police investigation revealed two other girls of the same age, with all three living in various parts of England, had also been contacted by Osborne who during online chats, text messages and phone calls claimed to be 20 years younger than he actually was.