Ballymena councillor David Tweed again rejects abuse claims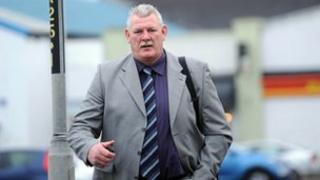 A former rugby international has been in the dock for the second day to defend himself against allegations of sexual abuse.
David Tweed is on trial at Antrim Crown Court, accused of abusing two young girls who are now adults.
Mr Tweed, who is a Ballymena councillor, is charged with abusing the two young girls over an eight-year period.
On Wednesday, his evidence was challenged by a prosecuting barrister.
During cross-examination, the crown lawyer said "the allegations if not true are extremely wicked... vile and wicked."
"The worst that could be made," Mr Tweed replied.
Asking Mr Tweed why anyone would make up such allegations, the lawyer added: "There are two options. One, it is true or two, or they have some animosity towards you that has caused them to tell these wicked lies.
"I formally put it to you it is true."
"No," Mr Tweed replied. "It definitely didn't happen."
The trial continues.