Northern Ireland house prices continue to fall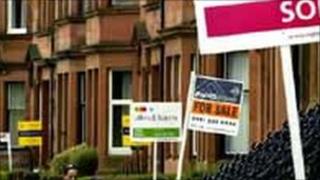 House prices in Northern Ireland are still falling and are down 12% on this time last year, according to the latest figures.
They are now less than half of their peak value, recorded around August 2007.
Since then they have fallen by 55%, according to the latest figures released by the Land and Property Services.
Apartments have seen the largest fall in value - down 61% with terraced properties falling by 59%.
While prices are still falling, the figures show that the pace of decline is slowing.
In the past three months they fell by just 1%.
The number of sales is up 7% on the same period last year.
Jim Fitzpatrick, BBC NI economics and business editor, said: "When people talk of the Irish property crash, they're mostly thinking of the Republic. But Northern Ireland's crash is worse.
"The peak to trough fall in values in Northern Ireland is now 55%, compared to a 50% fall in the Republic. But add in the effects of inflation and the difference is even more dramatic.
"In real terms - according to some number crunching by Irish website Namawinelake - Northern Ireland property has fallen in value by 62% compared to about 51% in the Republic.
"If Northern Ireland was a sovereign state, it could claim to have the worst property crash in the world.
"Those looking for a silver lining will point to a slowing in the rate of decline and an increase in the number of sales.
"But values are, in real terms, almost down to one third of their peak.
"That suggests a hugely negative economic legacy that few have begun to fully appreciate."