Ann Travers: Flashbacks of sister's murder after McArdle appointment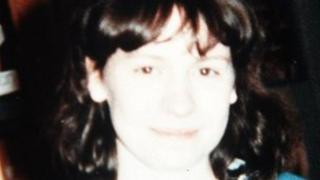 Ann Travers has told a Stormont committee she has suffered constant flashbacks after Sinn Fein appointed a woman convicted of her sister's murder as a special adviser to one of its ministers.
Mary McArdle's appointment as special adviser to Culture Minister Caral Ni Chuillin sparked controversy in 2011.
It later emerged Ms McArdle had been convicted for her part in the murder of Mary Travers in 1984.
She left the post earlier this year.
Ann Travers was giving evidence on Wednesday in support of a bill that would prevent anyone sentenced to more than five years in jail holding such positions.
She said that on being informed of Mary McArdle's appointment her stomach heaved and she panicked.
Ever since she said she had had flashbacks about her sister's murder.
Ms Travers told the committee she did not believe ex-prisoners should not have a second chance but said Mary McArdle had shown no remorse.
She pleaded with members to ask the Sinn Fein member who else had been involved in the attack.
Sinn Fein's Mitchel McLaughlin told Ann Travers she should have been informed of the appointment before it became public.
But she told him if Sinn Fein had moved Mary McArdle to another job she probably would not be appearing in front of the committee on Wednesday.
She also clashed with Mr McLaughlin over a proposed meeting with Ms Ni Chuillin denying she had refused to take part.
In March it was revealed that Ms McArdle was to move from the post.
She was replaced by Jarlath Kearney, a former journalist, who had worked as a Sinn Fein policy adviser.
Sinn Fein later said it was part of normal party policy to rotate staff.
Mary Travers, 22, was shot dead by an IRA gang as she left Mass with her father, the magistrate Tom Travers.
Ms McArdle was sentenced to a life term for the murder and was released under the Good Friday Agreement.
In an interview last year, Ms McArdle told the Andersonstown News she did not believe anything she said could ease the family's grief.