Ritchie: Robinson wanted North-South money 'for loyalists'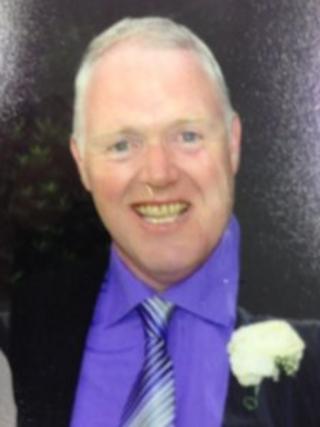 Former SDLP leader Margaret Ritchie has claimed that Peter Robinson wanted money diverted to community projects for loyalists because loyalist paramilitaries were "getting restless".
She said he wanted money moved from North-South infrastructure projects.
Her comments came as MPs debated a motion about security in Northern Ireland after the David Black murder.
Ms Ritchie said all parties were united against terror but she said Sinn Fein and the DUP could "do more".
She said Sinn Fein must do more to "provide every shred of information they have, whether recent or from the recesses of their memories, to the police".
On the DUP she said: "The DUP leader, first minister of Northern Ireland and former member of this house, only recently complained to the Irish government that funding going into worthwhile North-South infrastructure projects should instead go to community projects for loyalists - because loyalist paramilitaries were getting restless and increasingly of a disposition to strike out."
The SDLP MP told the House of Commons that was "not good enough".
The comment was challenged by the North Belfast MP Nigel Dodds.
He branded the remark "ridiculous". He and other DUP MPs sitting behind the South Down MP in the chamber asked Margaret Ritchie to provide evidence.
Ms Ritchie simply told MPs there was evidence although she did not go into detail.
MPs have been debating a DUP motion calling for the fullest possible protection to members of the prison service and the security forces.
The move follows the murder of prison officer David Black, who was shot as he drove to work on 1 November.
The motion, tabled by all eight DUP MPs, was introduced by Mr Dodds.
The DUP deputy leader began his speech by paying tribute to David Black who he described as "an innocent public servant".
Mr Dodds also said that those who use violence in Northern Ireland were "a crazed and fanatical element".
He said the "people of Northern Ireland had suffered for too long".
Threat level
He also told the House of Commons that it would be wrong not to state how much Northern Ireland had changed in recent years.
Mr Dodds said life in Northern Ireland was a "a world away " from the past but he said it "would be reckless " to ignore the threat posed by dissident groups.
The independent MP for North Down, Lady Hermon, also paid tribute to Mr Black and his family.
She told her fellow MPs that she thought it "would be helpful" if an inventory of decommissioned weapons was published.
She said such a move would help the general public assess what the level of threat was.
Responding to Lady Hermon's question, Secretary of State Theresa Villiers said the issue of decommissioning was handled by an independent body and the "government does not have that information".
However she promised to discuss the matter with Lady Hermon.
Speaking during the debate, Lagan Valley MP Jeffrey Donaldson raised the issue of the personal safety of prison officers and members of the security forces.
The East Belfast MP Naomi Long raised the issue of racketeering.
The Alliance MP said while it was true to say some had moved away from violence, some had "not moved away from criminality".
Ms Villiers, said people should keep the "family and friends of David Black in our thoughts".
She also described Mr Black's widow as "dignified and courageous".
She said the government was taking the threat from dissident groups "very seriously".
She also told MPs the threat was "severe " and the government remained vigilant in Northern Ireland and the rest of the UK.
She said dissident republican groups "despise the progress" that has been made in Northern Ireland.
The Shadow Secretary of State Vernon Coaker also paid tribute to David Black and his family.
However he told the Commons, "We must not, however, think that sentiments alone will ensure that no other family is bereaved and no other home, has an empty chair and a loved one gone."
He added: "There can be no complacency about the threat from the small number of people engaged in violence, and there must be total support-both financial and political-from the government and the opposition to help the security forces to keep people safe in Northern Ireland".
Mr Black, a 52-year-old father of two, was the first prison officer to be murdered in Northern Ireland in almost 20 years.
He was driving to work at Maghaberry Prison, Northern Ireland's high security jail, when he was attacked and killed.
A new organisation calling itself the IRA said it murdered Mr Black.
It was formed during the summer, bringing together the Real IRA, Republican Action Against Drugs, and a group of non-aligned republicans, a number of whom are believed to be based in the Craigavon area of County Armagh.