Ash disease inspections at 36 Northern Ireland sites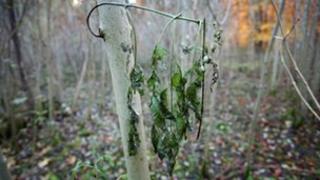 Forest Service officials have visited 36 sites in Northern Ireland linked to the outbreak of ash dieback.
It was announced last week that Chalara ash dieback had been found locally and at present there are five confirmed outbreaks.
In a briefing from officials, the Stormont Agriculture and Rural Development Committee was told all the cases were linked to one source.
This is a Scottish nursery connected to a European supplier.
There are another 15 sites that have symptoms of the disease and officials are waiting for laboratory test results to confirm if dieback is present.
The first confirmed diagnosis in Northern Ireland happened after the person with the infected plant sent it to the authorities in Scotland, who informed the Department of Agriculture in Northern Ireland.
National Trust land at Runkerry on the north coast is one of the sites.
The Chalara ash dieback disease, caused by the fungus Chalara fraxinea, was found in imported ash saplings in counties Down and Antrim.
Symptoms can include brown leaves, lesions, fungi and dark wood.
Statutory notices have been served on the owners of the plantations requiring affected plants to be destroyed.
The disease has infected some 90% of the species in Denmark, and is threatening the UK's ash population. It has also been discovered in the Irish Republic.
The first confirmed case in the UK was recorded at a nursery in Buckinghamshire in March 2012.
A ban on ash imports and the movement of trees from areas with confirmed cases of dieback came into force on 29 October.
The Forestry Commission in Great Britain has issued guidance on how to identify the disease.