Slashed prisoner suing Magilligan governor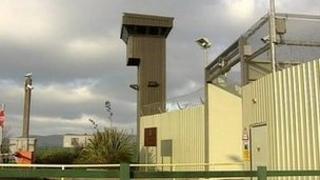 A former prisoner slashed by a fellow inmate is suing jail chiefs for an alleged breach of a duty of care.
Wesley Smylie was attacked and cut with a razor blade in his cell at Magilligan Prison four years ago.
He suffered a wound along his jawline which required up to 17 stitches.
Lawyers for Mr Smylie, whose reasons for being in prison were not disclosed, have now issued proceedings against the governor of HMP Magilligan.
The High Court action claims there was a breach in the duty of care owed to the plaintiff, and questions the level of security in place at the time.
North Belfast man Joseph Henry Smyth, who was serving a sentence for robbery at the time, was later convicted of wounding and jailed for a further two years.
A judge was told on Tuesday how seven assaults among prisoners were recorded in the year leading up to Mr Smylie being slashed.
A security governor at the jail said the attack on the plaintiff was the only incident to involve a weapon.
The court also heard how 350 seizures of contraband items and goods were recorded over a 12-month period.
Saw blade and scissors
Only three of these involved weapons - a six inch saw blade, a pair of broken scissors and a Stanley knife-type blade.
Prison witnesses were questioned about a health and safety report that had recommended the use of hand-held metal detectors in the workshop area.
Counsel for Mr Smylie contended that if the detection system was implemented it would identify items being smuggled out.
But the security governor claimed it could instead be set off by zips and buttons, raising the prospect of full body searches for every inmate leaving the workshop.
At one stage in the hearing Liam McCollum QC, for the plaintiff, said: "There is a duty of care point clearly. The question is whether there was a reasonable system."
Proceedings were then adjourned to allow a detailed examination of security documents relevant to the case.
Counsel for the defendant suggested they may involve public interest immunity issues.
Lord Justice Higgins, who is hearing the action, listed it for a further hearing in two weeks time.