Millie Martin murder: Mother denies shielding partner from police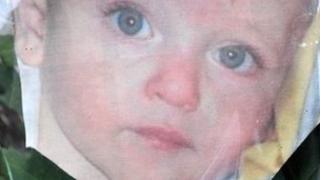 The mother of murdered toddler Millie Martin has rejected any suggestion that she shielded her former partner from the police.
Rachael Martin gave evidence in her own defence for a second day.
She is accused of "allowing the death" of 15-month-old Millie in December 2009. She denies the charge.
Her then partner, Barry McCarney, denies murder, sexual assault and assault occasioning actual bodily harm.
Ms Martin was asked if she had ever suspected her daughter was being abused. She replied: "Definitely not".
Asked if she had turned a blind eye to abuse, she again replied: "Definitely not, definitely not".
She said that, up until the night of Millie's death, she had trusted Barry McCarney "100%".
Millie died from head injuries on 11 December 2009. Doctors who examined her in Enniskillen's Erne Hospital discovered she had also been sexually assaulted.
Under cross-examination on Tuesday, Ms Martin was asked about the moments, in the Erne Hospital, just after she was informed of the nature of Millie's injuries and the revelation that she appeared to have been sexually assaulted.
She said she had been convinced "immediately" that Mr McCarney must have inflicted the injuries while she was out of the house for a few minutes earlier that evening.
'Complete maniac'
She was then asked why, if that was true, she had gone outside the hospital for a cigarette in Barry McCarney's company and later travelled with him to Belfast.
She said she wanted to make sure Mr McCarney, who she described as "a complete maniac", did not abscond before the police had an opportunity to arrest him.
A short time later, she said they had gone for the cigarette before she had been told about the nature of Millie's injuries, but then said her memory was not clear and reverted to her previous version of events.
Pressed on how she made the journey to Belfast with a man she believed had killed, or nearly killed, her child, she said: "My head was a mess. I just sat there. I don't think we spoke."
She was then asked why, again if she believed Barry Mc Carney had killed Millie, she did not mention it in almost three hours of police interviews the following day.
"I don't know," was her reply.
Over a number of days, Ms Martin was interviewed by the police for a total of six hours and 55 minutes.
Photographs
Under cross-examination, she agreed that she had not said "a single critical thing" about Barry McCarney. Asked how she could explain that, she said "I can't".
Earlier, the jury was shown hundreds of photographs of the toddler, taken by her mother.
The four albums, containing several hundred photographs, appear to show the mother and daughter enjoying a normal, loving relationship with the majority showing a smiling Millie playing with her toys.
Some of the photos also show Millie with Barry McCarney.
Ms Martin was taken through the photographs one at a time by her barrister.
She was asked about a bruise seen on Millie's head in a number of the photos.
She has already told the court that it was the result of Millie bumping her head while in her cot.
She was also asked about a burn which can been seen on Millie's finger in photos taken just days before her death. She has previously said this happened when Millie accidentally touched a candle flame.
Ms Martin will continue giving evidence on Wednesday.