Favourite Dublin watering hole of Ulster GAA fans to close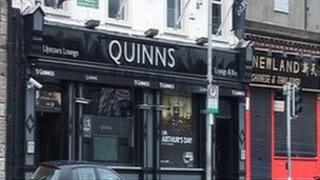 Quinns pub in the Drumcondra area of north Dublin has long-established Ulster GAA connections.
Not far from Croke Park, it's a meeting place where fans gather before matches and often to collect promised tickets.
Inside the bar there are framed jerseys from many counties, but surprisingly no Ulster or, indeed, Dublin ones.
Mid-morning drinkers say the pub used to be called Cook's before becoming McGovern's and finally Quinns about 30 years ago.
It used to be owned by the jailed former billionaire, Sean Quinn, although nobody there remembers him ever setting foot inside.
Last week, receivers acting for the Quinn International Property Group, which used to be part of the Quinn empire, and the current landlord, Eoin Quinlan were in dispute over the running of the bar and lounge
A father of two young children, Mr Quinlan is quoted in the Evening Herald newspaper as saying he can't pay the rent he's been asked to.
The result is the pub will close on Tuesday - but possibly only for a short period.
One 63-year-old drinker, who called himself Hairy Brendan, has been a regular at the pub since he was 16 - he thinks he looked old for his age.
He said the bar and lounge have always been popular with all GAA fans but Ulster people liked to drink there because it was on the main road to Belfast and the border and there were plenty of B+Bs nearby.
"They come and park their cars in Holy Cross College, come in for a drink, meet friends and collect tickets before heading to the match. Then afterwards come back here and maybe, have a couple, before hitting the road home or stay overnight," he says.
Others, who don't want to be identified, say that republicans used to meet in the pub during the Troubles.
Quinns has a reputation as a sports bar and is a big favourite with Glasgow Celtic and Manchester United fans.
But nobody can recall ever seeing the sports-loving, Drumcondra native and former Taoiseach, Bertie Ahern, inside.
And I'm given the definite impression that they wouldn't have wanted to see him either.
Nobody was prepared to say why.