Vion selling Cookstown pig processing plant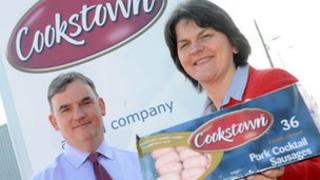 The owners of the Cookstown pig processing plant is selling it off - along with all its other UK meat businesses.
The Vion plant employs around 700 people.
Last week the company was on the Northern Ireland trade mission to China - and earlier this year invested £11m in the Cookstown plant, with almost £1m of that from Invest NI.
Vion announced in March it was creating 164 jobs at the Cookstown plant.
The money from the investment was to install new equipment and improve technology at the facility, which is the largest pig processing plant on the island of Ireland.
The plant produces pork, sausages, bacon and cooked meats.
Mid-Ulster DUP MLA, Ian McCrea, said the county Tyrone facility was one of the best within the company.
"I certainly would have concerns in relation to the investment that was made and I certainly hope that regardless of who purchases it, the people who are driving this forward at present are kept within the company to ensure that investment and that decision to enhance the process and facilities to create 164 new jobs is carried forward," he said.
BBC NI agriculture correspondent Richard Wright said it was a "surprise move".
Vion said the decision would allow it to concentrate on its core processing activities in Germany and the Netherlands.
The company is based in the Netherlands.
It employs more than 25,000 people worldwide and has an annual turnover of almost 9bn euros.