Bishop outlines church stance on pregnancy terminations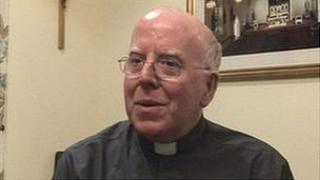 A Catholic bishop has said the church's moral teaching permits life-saving treatment for a pregnant woman even if it risks the life of her unborn baby.
Bishop of Dromore Dr John McAreavey was outlining the church's stance following the tragic death of Savita Halappanavar in a Galway hospital last month.
Her family said that even though she was in severe pain and miscarrying, her request for an abortion was refused.
Dr McAreavey said such treatment would have been "ethically permissible".
'Everything possible'
Mrs Halappanavar had been admitted to the hospital with severe back pain and was later told she was having a miscarriage.
Speaking on the BBC's Good Morning Ulster programme, Bishop McAreavey said everything possible should be done to save a mother's life.
"Where a seriously-ill pregnant woman needs medical treatment, which may put the life of her baby at risk, such treatments are ethically permissible, provided, obviously, every effort has been to save the life of both mother and baby," he said.
"There is no ethical reason why everything necessary would not have been done to save the life of this mother.
"As to why precisely the clinical decisions were made in this case, that's something that we can't judge at this time."
Asked if he believed the law needed to be changed, Bishop McAreavey said: "Personally, I don't believe a change in the law is necessary because I think the ethical principles are clear and I'm not sure that the issue of abortion, in fact, has any relevance in relation to this particular case."
Terminated
Mrs Halappanavar's widower, Praveen, said his wife had accepted she was losing her baby and made several requests for a medical termination.
However, he claimed doctors refused her plea because there was a foetal heartbeat. He said she might have lived if doctors had agreed to her requests.
Mr Halappanavar said hospital staff told them Ireland was "a Catholic country".
The hospital authorities have said the facts of the case had yet to be established.
Her family on Tuesday called for a fully-independent inquiry into her death.
It comes after the Health Service Executive in the Irish Republic announced the details of its investigation into the death of Mrs Halappanavar.
The HSE inquiry will aim to determine the facts of her death, identify contributory factors and make recommendations to try to prevent a similar death happening again.
Thousands of people last week took part in rallies in several Irish towns and cities calling for changes to be made to the abortion law.