Report into Samuel Carson death criticises NI prison service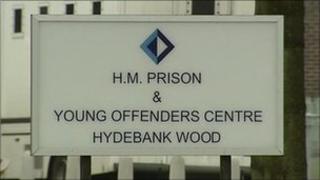 The NI prison service has been criticised for failing to investigate repeated bullying and threats against an alleged sex offender.
Samuel Carson, 19, hanged himself in his cell last year.
He took his own life in Hydebank Wood young offenders centre in south Belfast.
In a report into his death, the Prisoner Ombudsman said the prison service had not followed its own policies.
Samuel Carson, a father-of-two, was remanded in custody to Hydebank Wood prison in March 2010 charged with raping a 15-year-old girl and a series of other sexual offences.
As an alleged sex offender, prison staff noted that he was under constant danger of attacks by other inmates.
It was also recorded that he had suicidal thoughts.
In August 2010, his solicitor contacted the prison authorities and told them the teenager had told his sister he was going to kill himself.
Two months later, his solicitor wrote to the prison service again raising concerns about assaults on him by other inmates and requesting information about what measures were being put in place to ensure his safety.
In May 2011, 14 months after he was sent to prison, Samuel Carson hanged himself in his cell.
He had a son aged 20 months and a daughter aged eight months at the time of his death.
Two days before he died, he spoke to the Samaritans for 23 minutes.
An investigation by the Prison Ombudsman found that he had been extensively bullied and assaulted. It found that at times he was frightened to leave his cell.
The Prisoner Ombudsman, Pauline McCabe, says numerous recorded instances of very serious verbal abuse and threats were not investigated and did not lead to any action being taken.
Her report says the investigation found evidence "of a number of staff showing concern for Samuel and trying to help him when this was needed", but lists 28 areas of concern.
These include the fact that "numerous allegations of bullying and noted instances of bullying were not, contrary to prison service anti-bullying policy, referred for investigation" and required referrals were not made to the anti-bullying co-ordinator.
The report says there was no evidence that staff in the part of the prison where Mr Carson was being held took action to address the bullying.
The Ombudsman also says some staff "regarded the bullying of alleged or committed sex offenders as inevitable".
Mr Carson was also under threat when outside the prison on bail. He had to go back into custody because he could not find a safe address to live.
Medical supervision
The report notes that he was warned by police that he was under threat from loyalist paramilitaries, the UVF and UDA, and threats were also issued against his mother and sister if they allowed him to live at their homes.
On one occasion, he was attacked and beaten by eight youths while living with his sister, who was then also attacked and threatened.
The report lists a series of instances of bullying and verbal and physical assaults during the 14-month period Mr Carson was in Hydebank, but says other factors may also have influenced his decision to take his own life.
There is criticism for the South Eastern Health and Social Care Trust, which is responsible of prisoners in Hydebank.
Pauline McCabe says there is no evidence that, as required by the trust's policy, a summary of Mr Carson's community GP records was requested, and the need for mental health reviews was not adequately considered.
A month before he died, he was prescribed an anti-depressant drug known to be associated with an increased incidence of suicidal thoughts and deaths in the early weeks of use.
The Ombudsman says this was prescribed "without the recommended measures for additional medical supervision being put in place".
The charges of rape and making indecent images of a child against Mr Carson and a co-accused were withdrawn in November 2010, but they were both to be prosecuted for nine other alleged sexual offences, which they denied.
In March this year, his co-accused was acquitted of all charges after the Public Prosecution Service offered no evidence against him.
In a statement, Mr Carson's family called on the prison service to take immediate steps to ensure that all matters raised in the report are dealt with "so that no family has to ever deal with the grief that has crippled us and continues to do so".
'Deficiencies'
The Northern Ireland Prison Service Director General Sue McAllister said more needed to be done to tackle bullying in prisons and that her thoughts were with Mr Carson's family.
"It is quite clear from the Ombudsman's report that Samuel was subjected to both physical and verbal abuse from other prisoners while he was at Hydebank Wood and the report does, in parts, make difficult reading," she said.
"I am under no illusions that bullying can happen in prisons, with those convicted of or charged with particular offences particularly vulnerable.
"We do however have a duty of care to those who are sent to prison by the courts and we must do all that we can to protect them as far as possible through exercising the highest professional standards.
"It is clear from the report that there were deficiencies in the levels of protection offered to Samuel."
Mrs McAllister said the Prison Service was committed to "providing safe, secure and decent custody for all prisoners".
"New protocols in relation to the recording of information and the keeping of contact logs have been introduced to the security department at the Young Offenders Centre and staff have been reminded that all accusations of bullying must be fully investigated," she said.
"In addition I have commissioned a corporate audit of security management processes across all establishments to ensure that there is a consistency of approach throughout the service when handling issues of sensitivity."