Organ donor series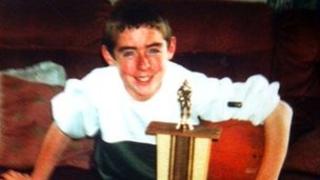 It's 10 years since my brother Ronan died at the age of 15.
His coat still hangs on the banister at the bottom of the stairs in the house we grew up in, just as he left it.
His posters, pictures and basketball medals are still on the walls of his bedroom. Two guitars and his school bag are there in the corner. Just as he left them.
Ronan died in March 2002 after having a brain aneurysm - a weak spot on a blood vessel which if ruptured, can prove fatal.
He had suffered an aneurysm once before as a young child, but had made a full recovery following treatment, with an optimistic assurance of a very slim chance of it ever happening again.
I was meant to be away at a birthday party the weekend it did happen again.
Instead, a typically broke student, I stayed at home and spent the day with my little brother.
The last time I saw him alive was when I left him sitting on the couch watching television.
Unknown to me, my final words to him were: "Goodnight, I'll see you tomorrow."
Life-support machine
My mum found him the next morning. He slipped into unconsciousness shortly before the ambulance arrived and would never wake again.
He spent four days on a life-support machine in hospital.
It was very difficult to accept what we were being told as he appeared perfect. Normal breathing, flushed cheeks, he looked like he was sleeping.
But the doctors told my family that Ronan was brain dead and there was no chance he would survive.
My parents, Maureen and Charlie, were asked if they would consider organ donation.
"The doctor approached us and mentioned the possibility," my mum recalled.
"And I remembered that Ronan and I had had a conversation during EastEnders which was running a storyline about donation at the time.
"I asked him would he give his organs and he said yes, he would.
"We made a joke of it then. Little did I know down the line we would have to make the choice but I am glad that we did."
When you are facing every parent's worst nightmare in losing a child, surely it must be a difficult decision?
"It is hard but Ronan was so full of life, I was happy he could save somebody else," my mum said.
"He was such a generous person, he would have loved to give someone else the gift of life. I never regretted the decision."
Ronan donated his heart, kidneys and liver. He could not donate his lungs because he was asthmatic. My parents chose not to donate his corneas.
"We were going to donate the corneas, but he had lovely big blue eyes, so I just couldn't do it. I found that one hard to do," mum said.
The kidneys and liver recipients were in the Republic of Ireland. The heart recipient was in Manchester.
We were told the operations were successful and everyone was doing well afterwards.
Our family has never met them and we probably never will. But organ donation has helped with coming to terms with such a sudden and devastating death.
"I haven't checked on the recipients' conditions in the last few years," my mum said.
"It's such a long process and if you found out that person didn't live either in the end, it would be very hard. For me, to get on with it, I can but hope those people are alive and enjoying their lives.
"I still believe because of the organ donation, Ronan, in a way, lives on, and knowing he made such a difference, has helped so much."
We did receive a letter from one of the people who had received a kidney from Ronan.
He was a man who had been on dialysis for many years. Now, after his transplant, he told us in his letter he was going on holidays with his family and he was so happy he could now do that when he couldn't before.
My brother will never grow older. He never got to go to his formal, to college, or to fulfil his ambition of becoming an actor.
Every Christmas, every family gathering, and every day, he is the person that is always missing.
But in life, as in death, he always helped others and his organ donation is something my family can always be proud of and take comfort in.