Millie Martin murder: Mother gives evidence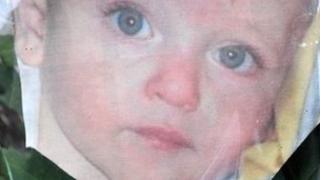 The mother of County Fermanagh toddler, Millie Martin, has been giving evidence at the trial into her death.
The 15-month-old died from severe head injuries in December 2009.
Her mother, Rachael Martin, is accused of allowing her death while Ms Martin's former partner, Barry McCarney, is charged with murder.
On Monday, the jury was told that Mr McCarney would not be giving any evidence.
Ms Martin told the court she had been in a relationship with Mr McCarney for three months, not six as he claimed.
She said she had met him at her father's house and said he was "charming and very loving."
"He treated me like a princess," she added.
She said he had asked her father's permission to go out with her and he moved in a couple of weeks later.
She said he got on very well with Millie and played and chatted with her and bought her toys.
"He couldn't have been nicer to Millie," she said.
Ms Martin described Millie as "funny... clumsy, just a real good wee baby, a class wee thing".
She later told the court she had no reason to suspect that Mr McCarney was abusing Millie.
She said it had never crossed her mind that her little girl was being physically or sexually assaulted.
She said: "Had it ever entered my head, he would not have been in my house."
She said the night before Millie was taken to hospital the toddler had been fine.
Her mother said she had put Millie to bed leaving Mr McCarney in the house while she went to get a carry out. This took 45 minutes to an hour.
'Wanted cuddled'
Mr McCarney told police that night Millie was "dopey with a real bad dose of flu".
Ms Martin said: "That couldn't be further from the truth. Millie was perfect going to bed on Wednesday night. Millie was 100% definitely."
But the next morning she said she was surprised when Millie was very sleepy and appeared to be coming down with the cold.
"She was just very sleepy as if she just wanted cuddled," she said.
When she brought Millie to her mother's house she said her daughter's condition had them in tears.
"I'd never seen Millie ill before and it broke my heart for her to look like that," she said.
Millie Martin died in hospital during the early hours of 11 December, 2009 after being rushed there unconscious from her Glebe Park home in Enniskillen.
Her 27-year-old mother, from Main Street in Kesh, denies wilfully neglecting Millie and allowing her death.
Mr McCarney, 33, from Woodview Crescent in Trillick, denies murder, sexual assault and assault occasioning actual bodily harm.