Organ donor series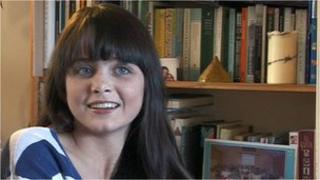 "I'm lucky, very lucky. I've had a second chance to do it again."
These are the words of a 13-year-old girl who knows that without the gift of life from a stranger, she would not be here today.
Five years ago, Ballycastle teenager Luceia Quinney-Mee developed a rare condition that meant her red blood cells started to attack her liver.
One of the symptoms was the whites of her eyes turning yellow. Doctors referred her to specialists in Belfast.
"Belfast has a shared care connection with Birmingham Children's Hospital so they sent me over to Birmingham and within a week I was on the waiting list for a liver transplant," she said.
"It was the morning after a liver became available to me and so I went down to theatre to get my first transplant."
However, this was not a success and a year later, Luceia was back on the waiting list.
"It was chronic rejection that I had," she said. "The liver just didn't settle in my body.
"It was a really different experience because I wasn't in hospital. I was allowed to come back home and wait for it.
"For those three months I was never in school and wasn't going out that much. It was weird but I don't remember ever feeling frightened."
Luceia got a second liver transplant early in 2009. Three years later she is still doing well.
She takes a daily cocktail of anti-rejection drugs but the transplant has transformed her life.
Since the operation she has become an enthusiastic swimmer, competing in the Transplant Games and earlier this year carried the Olympic Torch.
Her mother, Rachel, said they will be forever indebted to the person who died to save Luceia's life.
"We would have lost Luceia if we hadn't had organ donation," she said.
"She's still here, she's still with us, she's fit and healthy.
"We feel it's very important to promote the Organ Donation Register, to try and help people see that it's really important to sign on to the register.
"But it's also really important to talk to your family about it. At the bedside, when your loved one is dying is not the time to make a decision.
"It's very difficult but we know how important it is to be spoken about."
Luceia has written a letter to the donor family but has not yet received a response.
She said she would love to contact them because, without them, she would not be living life to the full.
"Somebody had to die for me to live again and it's really special that somebody would actually give up an organ so that I could live," she said.