Ulster Bank receives record fine from Irish Central Bank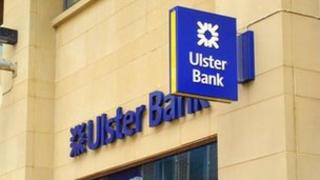 The Ulster Bank has been fined 1.96m euros (£1.57m) for breaches of rules in how it must run its operations.
The Irish Central Bank fine is a record and is a result of breaches in both capital and liquidity requirements.
Banks must keep certain levels of capital - their investments - and effectively manage liquidity - their cash - to ensure customers are protected in a crisis.
It is the job of the Central Bank to police the strict rules.
It is the first time the Irish regulator has taken action against any bank over its capital requirements and only the third time the bank has acted in relation to liquidity issues.
The chief executive of Ulster Bank Jim Brown acknowledged that the settlement was significant and the contraventions had been unacceptable.
But he said the bank had itself identified the breaches and had put measures in place to ensure no repeat.
The Central Bank said customers had not been at risk but the penalty imposed reflected the importance the bank placed on ensuring rules were followed.