Belfast priest Fr Hugh Kennedy will not be prosecuted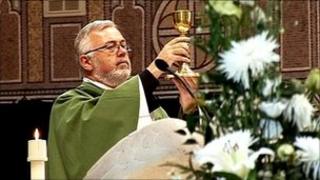 A police investigation into a well-known Catholic priest in Belfast has ended and he will not be prosecuted.
Father Hugh Kennedy stepped down as administrator of St Peter's Cathedral in west Belfast more than a year ago.
When Fr Kennedy stepped down from his post, the church said it had received information about him which it passed on to the police and social services.
A spokesman said Fr Kennedy, who had been on sick leave, had agreed to step aside pending inquiries.
The details of the information in question was not disclosed, but the Church said it was not connected to the boys' choir at St. Peter's.
In a statement at the time, Fr Kennedy said that he had never violated or molested a child.
He also offered to meet parents of children in the boys' choir which he founded.
Fr Kennedy stood down after talking to the Bishop of Down and Connor, Noel Treanor, in July 2011.
Now, more than a year later, the police have finished their investigation.
In a brief statement, the Police Service of Northern Ireland said the matter had been investigated and "was now concluded".
A spokesman confirmed to the BBC that no file had been sent to the Public Prosecution Service.
The Diocese of Down and Connor said it had received confirmation that no criminal charges will be brought against Fr Kennedy.
It added that the normal review under the Church's Safeguarding Policy and Procedures and its own internal process has resumed.
Fr Kennedy will remain out of church service until this is completed.