TUV in scathing attack on Sinn Fein and Martin McGuinness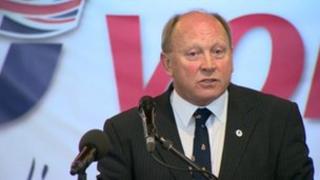 Northern Ireland's deputy first minister, Martin McGuinness, has been branded "the personification of evil" by the leader of the Traditional Unionist Voice (TUV).
Jim Allister launched a scathing attack on the Sinn Fein representative at the TUV's annual conference on Saturday.
Mr Allister called Sinn Fein "hypocrites" over their attitude to dissidents republican paramilitaries.
The TUV leader also said the NI assembly was "anti-democratic".
'Absurd'
He told party delegates that Northern Ireland was "stained with innocent blood".
Mr Allister claimed that "those who shed it, those who planned it and those who endorsed it rule over us.
"It is that evil at the heart of government - and make no mistake about it, there is evil at the heart of the Stormont government - the very personification of evil is our joint first minister".
He was referring to Deputy First Minister Martin McGuinness who is is currently on a trade mission to China with the First Minister, Peter Robinson.
The TUV conference took place in Cookstown, County Tyrone, the hometown of the murdered prison officer, David Black, who was shot and killed as he drove to work on the M1 on 1 November.
A new dissident republican paramilitary group calling itself the IRA has claimed responsibility for the shooting.
However, Mr Allister compared the attack to the past tactics of the Provisional IRA and said Sinn Fein's condemnation of the murder was "meaningless".
He also criticised the political system of mandatory coalition at the Northern Ireland assembly and said that "government without opposition is not just absurd, but anti-democratic".
'Opposition'
The MLA, who founded the TUV after leaving the DUP over its decision to share power with Sinn Fein, is the only representative of his party elected to Stormont.
However, he told delegates their message was "growing" in relevance.
"By demonstrating the effect even a one man opposition can have we have pushed this issue of democratic deficit up the agenda, with others now increasingly conceding that the case for a democratic opposition is unanswerable," Mr Allister said.