Four appear in court after Portrush stabbing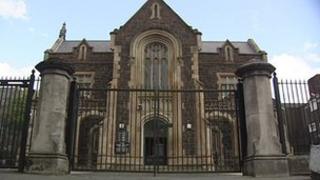 Four people have been charged at a court in Ballymena after a 32-year-old man was stabbed in Portrush on Friday.
Kieran McGaughey, 25, from Caldwell Park in Portrush was charged with attempted murder, possession of an offensive weapon and threats to kill.
Nathan Harkin, 18, and Arthur Hansen, 24, both from Glenmanus Park, Portrush, were charged with attempted murder.
Shannon Brown, 19, from Crystal Street, Belfast, was charged with incitement to murder and assisting offenders.
She was also charged with having cocaine.
The man was stabbed on Causeway Street in Portrush at about 00:30 GMT on Friday. His injuries are not believed to be life-threatening.
The magistrate and lawyers in the courtroom could hear shouting and banging on the walls during Saturday's proceedings.
The magistrate asked about the commotion, that began when the defendants were taken to the holding cells at the court house.
A defence lawyer said that most of it was directed at his client, Shannon Brown.
It was agreed that she should be dealt with first and separately.
Ms Brown and Mr Harkin were both released on bail, the other two defendants were remanded in custody.