Victims' chief Kathryn Stone wants inquests meeting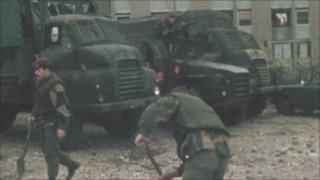 Northern Ireland's Victims' Commissioner has asked for an urgent meeting with Coroner John Leckey.
It follows the coroner suspending 14 inquests that were ordered by the Attorney General, John Larkin.
Kathryn Stone said she wanted to discuss the implications on victims and their families.
Mr Leckey adjourned the inquests due to potential national security concerns and said Mr Larkin may have exceeded his powers by ordering the hearings.
Ms Stone said that statutory agencies have to co-ordinate their communications with victims and survivors.
"It is my role to advocate for victims and survivors, and whilst these agencies are in disagreement, it is the families of the victims that are left to suffer and there exists the potential for hurt and distress to be caused again to these families," she said.
"Given the significant psychological trauma that many victims and survivors of the conflict have experienced already, public representatives need to exercise responsibility and display empathy to the plight of all individuals and families who have been and continue to be affected by the past conflict."
The majority of cases involve people who were killed by the Army in the 1970s, including 10 people shot dead in Ballymurphy, west Belfast in August 1971.
The suspensions were revealed at Belfast Coroners Court on Thursday, during a preliminary hearing into one of the 14 deaths.
The coroner referred the matter to Northern Ireland Secretary of State, Teresa Villiers, to seek clarification, as national security issues are not devolved to the assembly and remain a matter for the Northern Ireland Office.