Funeral of PA Maglochlainn, NI gay rights campaigner to be held on Saturday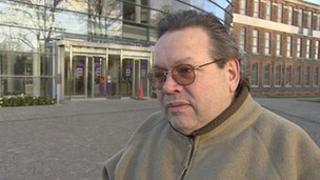 The funeral of PA Maglochlainn, the well-known gay rights campaigner from Londonderry, is due to take place on Saturday.
He had been receiving hospital treatment for a long-term illness but died on Wednesday.
Mr Maglochlainn was the president of the Northern Ireland Gay Rights Association (NIGRA) for 20 years.
As a member of the SDLP, he became the first openly gay representative to sit on a NI political party's executive.
SDLP leader Alasdair McDonnell said the loss of "such a fondly held party stalwart will be heavily felt across the SDLP".
Mr Maglochlainn worked as a SDLP volunteer in Mid Ulster before coming to South Belfast where, up until a few weeks ago, he volunteered every Thursday as a constituency advisor in Mr McDonnell's Finaghy office.
Mr Maglochlainn was a former teacher who first became involved with NIGRA over two decades ago.
Last year, he was honoured for his contribution to the Belfast Pride movement.