Ash disease discovered at five Northern Ireland sites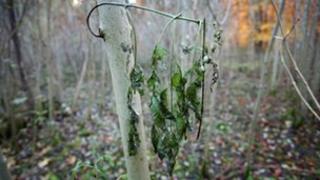 About 5,000 ash saplings and plants are to be destroyed after the fungal disease threatening the UK's ash trees was found at five Northern Ireland sites.
The Chalara ash dieback disease, caused by the fungus Chalara fraxinea, was found in imported ash saplings in counties Down and Antrim.
National Trust land at Runkerry on the north coast is one area affected.
Samples sent for laboratory analysis revealed the disease.
Symptoms can include brown leaves, lesions, fungi and dark wood.
Statutory notices have been served on the owners of the plantations requiring affected plants to be destroyed.
The Department of Agriculture and and Rural Development (DARD) said it was also investigating a number of other sites planted with imported ash saplings as part of an ongoing surveillance programme.
DARD Minister Michelle O'Neill said immediate steps were being taken to remove the plants and prevent the disease.
"The saplings and debris will be destroyed by burning and this work has already commenced. We have alerted our colleagues in the south and are continuing to work closely with them," she said.
"Legislation was introduced north and south last month banning the import and movement of ash plants for planting from infected areas.
"However, we must remain vigilant as this disease still poses a very serious threat."
The disease has infected some 90% of the species in Denmark, and is threatening the UK's ash population. It has also been discovered in the Irish Republic.
The first confirmed case in the UK was recorded at a nursery in Buckinghamshire back in March 2012.
A ban on ash imports and the movement of trees from areas with confirmed cases of dieback came into force on 29 October.
Researchers have said the affected trees in woodlands in the south of England were likely to have become infected as a result of coming into contact with Chalara fraxinea spores that had been blown over from mainland Europe.
Forest Service chief executive Malcolm Beattie said the infected saplings had been planted last year before the ban came in.
"These trees were brought into Northern Ireland before anyone became aware of the disease," he said.
UUP MLA Robin Swann, a member of Stormont's Agriculture Committee, said confirmation of the disease in Northern Ireland was "simply dreadful".
He said he would be seeking answers from DARD and the Department for Environment, Food and Rural Affairs.
The Forestry Commission in Great Britain has issued guidance on how to identify the disease.