Boy in critical condition in hospital after Ballymena fire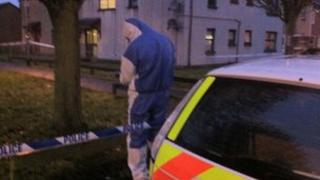 A small child remains in a critical condition in hospital after suffering burns during an incident on the Larne Road in Ballymena, County Antrim.
The boy, who is believed to be four years of age, was found in the street on Friday. It is understood his clothes may have caught fire.
A woman tried to help the child by beating out the flames with her bare hands.
She was also taken to hospital for treatment for burns injuries.
BBC NI reporter Conor Macauley attended the scene on Friday afternoon.
"I was speaking to some people who told me broadly what happened," he said.
"They said the child appeared from an entry and some neighbours who live on the front of the road, and also some drivers who were going past, did what they could to try and help.
"A local woman who was coming up the road got the child down and rolled him in the wet grass at the front of the road and I think that they managed to put the flames out.
"The police and the paramedics arrived almost immediately and the child was put in the back of a car and taken to hospital.
"I understand that the child's mother had popped out to a local shop."
He said there was "some speculation" that there may have been a candle involved.
"The child's clothes may have caught on fire from the candle in some way but obviously the police are now involved, there's a cordon here, there are forensic officers, so there's going to be a full police investigation into exactly what started the fire and how the child's clothes came to be alight," he said.
The boy was brought to Antrim Area Hospital, but was later transferred to the Royal Victoria Hospital in Belfast.