Lawyers warned of Larkin role in Maire Stopes inquiry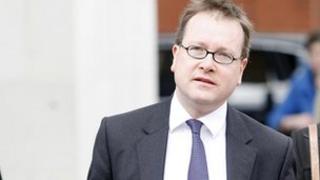 More details have emerged of why the Justice Committee declined the Attorney General John Larkin's offer to question witnesses in an inquiry into a sexual health clinic.
Legal advice to the committee said asking Mr Larkin to act as counsel would not be "prudent".
However, it did suggest that he could be called as a witness.
Last month Mr Larkin wrote to the committee offering his assistance if they wanted to investigate the new Marie Stopes clinic in Belfast.
The Stormont committee took its own legal advice, which concluded that the attorney general's offer should be declined.
Instead Mr Larkin will be asked to give evidence on his understanding of the law on abortion. However, the politicians will question any witnesses themselves.
The assembly's legal advisors described the attorney general's proposed inquiry as an "unusual proposition".
They said it was "outside their remit" and it would be neither "safe nor prudent" to exercise the power to call for persons and papers.
Some Justice Committee members have told the BBC not all the legal advice was accepted.
But they said the committee has taken on board the suggestion that the "committee should instead invite the attorney general to engage at present by the more traditional route of giving evidence".