12,000 tonnes of illegal waste to be returned to Irish Republic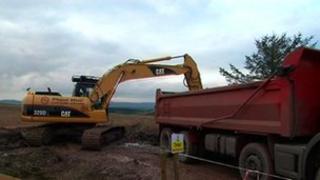 Work is under way to return about 12,000 tonnes of illegally-dumped waste from a site in County Tyrone.
The waste was discovered on land at Corleaghan Road, close to the border between Clogher and County Monaghan.
The operation to clear the site will take eight weeks and the waste will be disposed of at a legal landfill in Monaghan.
A landowner from Tyrone has been prosecuted in relation to the illegal dump.
The high cost of disposing of waste in the Republic of Ireland has meant that dumping in Northern Ireland has become a problem.
One hundred loads of waste have already been cleared at the site and it is estimated another 300 are needed to clear it completely.
It is believed the waste has been there since 2004 and Stephen McLaughlin from the Northern Ireland Environment Agency explained it included commercial, industrial and domestic material.
"It is causing harm to the local environment, now mainly through leaching, which is getting into local waterways," he said.
Everyone on site also has to wear a gas monitor for safety as the waste is releasing fluid and gas as it decomposes.
Environment Minister Alex Attwood said the dumping should have never happened.
"This is environmental vandalism on a huge scale. This is criminality on a huge scale," he said.
"It's a big job to get it all cleared up. Anyone who knows who did this, let us know and let the due process of the courts take care of them."