Sharp drop in Northern Ireland home ownership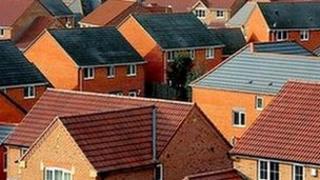 Home ownership levels have fallen sharply in Northern Ireland since their peak five years ago.
Figures from the Home Owners Alliance, which promotes home ownership, show the percentage of people who own their homes in Northern Ireland has fallen from 73.3% in 2007 to 67.5% in 2011.
However the level remains above the UK average of 64.7% which is the lowest level for 20 years.
The decline in home ownership in NI coincides with the property crash.
It has seen average domestic values drop 53% since the peak in the summer of 2007.
One concerning aspect of the figures is that ownership levels peaked at the same time as property prices which suggests that, despite the boom, large numbers of people were not priced out of the property market and bought homes that could be worth less than half the price they paid.
Tens of thousands of householders in Northern Ireland are estimated to be in negative equity - their mortgage is bigger than the value of their home.
The problem is biggest for those who bought property between 2004 and 2008.
Over the last three months 968 new repossession cases were referred to the courts in Northern Ireland, a 7% drop on the same time last year.
In that time the courts made 562 orders, 392 for possession, 133 suspending possession action and 37 other orders.