David Madine admits trying to kill loyalist Harry Stockman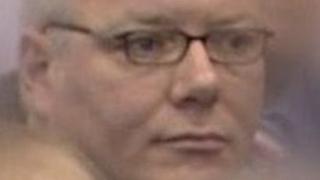 A man has admitted trying to kill a senior loyalist by stabbing him in front of shoppers in a supermarket.
David Madine, 42, with an address at Innishargie Gardens in Bangor, admitted in court in Belfast on Friday that he tried to murder Shankill loyalist Harry Stockman on 20 April last year.
Mr Stockman, 51, was stabbed more than 10 times in a supermarket in Ballygomartin, Belfast.
He had emergency surgery to repair damage to his kidney, colon and bowel.
A previous court heard that shortly after the attack, police arrested a bare-chested Madine on Twaddell Avenue, Belfast, carrying his T-shirt and a blood-stained knife.
During police questioning, he talked about the murder of his friend Bobby Moffett who was shot on Belfast's Shankill Road.
The Ulster Volunteer Force had been blamed for shooting Mr Moffett in May 2010.
In a statement read out while in custody, Mr Madine said he had known Mr Stockman for more than 20 years. He told police "something cracked in his head" when he saw him.
Madine had been due to go on trial in two weeks' time. He will be sentenced by Belfast Crown Court shortly before Christmas.