Patton contractors: Invest NI no bail-out on offer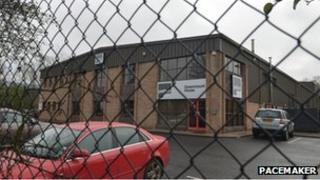 Invest Northern Ireland has said they cannot offer any compensation to subcontractors owed money by the Patton Group.
Last week, 190 staff at Patton's in Ballymena were laid off and the company went into administration.
A group of subcontractors, who said they were owed about £17m by Patton's, had asked the executive for a rescue package to help them.
However, Invest NI said it could not provide compensation.
The effects of the financial difficulties at the Patton Group are being seen throughout Northern Ireland.
The "Hill of the O'Neill" park in Dungannon is closed to the public after construction work there came to a halt. Work on another Patton contract, the new fire station in Omagh, has also stopped.
Meanwhile, the administrator Tom Keenan declined to be drawn on the future of the remaining 140 employees at the Patton Group.
In a brief statement, he told the BBC: "This is a very, very difficult situation and we are working our way through it."
In response to compensation calls from the subcontractors, the Department of Enterprise (DETI) said Enterprise Minister Arlene Foster recognised "the devastating effect that the failure of the Patton Group has had on the Group's employees, their families and increasingly on the owners, employees and families of the Patton Group sub-contractors."
However, no financial assistance is available.
"It will not be possible to provide any direct financial support to creditors of the Patton Group," the DETI spokesman said.