William Kennedy Piping Festival celebrates 19th year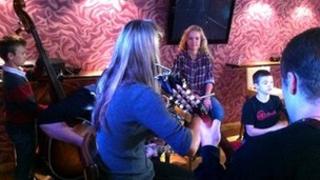 Nashville's Willis Clan are a hot ticket in the world of traditional music.
This week, they played Dublin's O2 and Belfast's Mandela Hall, but they also played a third, very different, gig.
They were on their way back to Dublin Airport, but insisted on a detour via Armagh where, instead of the 9,000 paying punters they played for in Dublin, they entertained (for free) a handful of music lovers in the basement bar of the city's theatre.
Why? Well, simply so they could say they had played in the William Kennedy Piping Festival.
And that underlines the esteem this event is held in across the world.
This is the 19th year of the festival which, as founder Brian Vallely explains, was only supposed to run for a single year.
"It had such an amazing impact on Armagh, right across all sorts of community barriers, bringing people together and that the pressure started immediately, (people saying) 'you have to have one next year again', then the following year and the following year and now it's 19 and we're facing into our 20th anniversary," Mr Vallely said.
He said they never consciously set out to bind communities together, but there is no doubt that this festival has done that and continues to do it.
"We suddenly discovered that it brought together the most diverse collection of people," he said.
"We're not overtly trying to do that; we're promoting piping and indirectly we're creating a level playing field where people feel comfortable to come together and listen to music, enjoy things and all the rest of it."
And that bond between pipers of different traditions has never been stronger than it is this year, with a record number of Scots and Highland pipers joining with the Uilleann pipers who have been the backbone of the festival for so many years.
Alisdair McLaren is the director of the National Youth Pipe Band of Scotland who feature in this year's line-up.
He explained: "We're doing a combined set with the Armagh Pipers Club with three sets of Uilleann pipes, and we'll have four sets of small pipes and they've worked out a nice set to play.
"I think it's just a natural thing for pipers. I think they just like to play as many instruments as possible and a lot of pipers - bagpipers - are fascinated by Uillean pipes because of the sound.
"It's a lovely sound that they produce and a lot of them tend to have an interest in them. It's just a matter of getting around to learning them."
"It's a wonderful new thing," said Brian Vallely. "It's great for our musicians. We now have loads of exchanges: to the Isle of Skye, to Piping Live, to Celtic Connections.
"We go backwards and forwards, learn each other's tunes and all the rest."