Invest NI cannot 'bail out' Patton subcontractors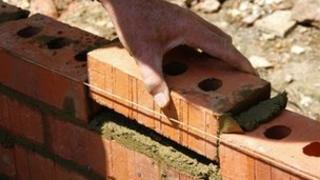 The effects of the financial difficulties at the Patton Group, one of Northern Ireland's oldest construction companies, are being seen and felt across the region.
The Ballymena-based firm went into administration last week, with 190 staff being made redundant.
It has resulted in building sites being abandoned while many subcontractors and suppliers have been left unpaid.
The four acre "Hill of the O'Neill" park in Dungannon in County Tyrone is closed.
A Patton contract, essential maintenance was not finished at the site when work stopped, so it is currently not safe to open it up to the public.
"As far as I'm aware the sub-contractors doing the work have not been paid. We are trying to get a meeting with administrators but so far we haven't been successful," said Sinn Féin Fermanagh-South Tyrone MLA Bronwyn McGahan.
Some outstanding work still has to be carried out on nearby Ranfurly House, the town's new arts centre - also a Patton contract.
More than 50 miles away from Patton's Ballymena headquarters, work has also ground to a halt on the new community fire station in Omagh, County Tyrone. A joint Patton contract, the site is now lying idle.
"Work has now stopped on the site pending the appointment of a new contractor to complete the project," said a spokesperson for the government department responsible for Fire Service, the DHSS.
Following last week's redundancies, there are fears even more jobs could go, but the administrator Tom Keenan declined to be drawn on the future of the remaining employees.
He said: "It's a very, very difficult situation and we are working our way through it. Ultimately the objective is to maximise the outcome for the creditors of the business."
Mr Keenan was unable to say just how much the company owes to subcontractors who were carrying out most to the construction work on the ground for the Patton group. Many of them have been left unpaid.
The subcontractors themselves estimate that firms directly employing 1,800 people are owed a total of £17.5m by Patton.
They have asked the government for a rescue package to help them.
Contractor James Blaney said: "When the Presbyterian Mutual Society got into difficulties, and other banks, they stepped in and bailed them out and got people their savings.
"That's savings - we have lost everything and more along with it."
The Stormont Executive's industrial support agency, Invest NI, met the contractors but said it could not bail them out.
"Invest NI provides support and guidance for businesses to help them grow and develop, it would not be within our remit to provide compensation to companies."