Paisley warned it would be 'mad' to appoint John Larkin as AG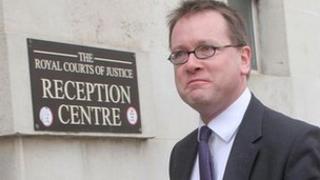 It has emerged that the First Minster Peter Robinson was advised by a senior party colleague not to appoint John Larkin as NI's attorney general.
BBC NI programme 'The View' has seen a confidential letter sent by Ian Paisley Jr to the first minister in 2009.
In it, Ian Paisley urged Mr Robinson not to give Mr Larkin the job saying they would be "mad to make this appointment".
The attorney general has faced much criticism in recent weeks.
Last weekend, at a pro-choice rally in Belfast city centre there were calls for the Attorney General to resign.
It follows the opening of a Marie Stopes clinic in the city last month - the first private facility to offer an abortion service to women in Northern Ireland.
The attorney general had offered to assist the assembly's justice committee to investigate whether this clinic was operating within the law .
He has also faced controversy over the issue of gay adoption. Last month it was made public that Mr Larkin had argued that European regions should be able to opt out of legalising adoption by same sex couples. However, the UK government made it clear that it was not consulted before John Larkin intervened.
In 2009, Ian Paisley Jr sent the letter to Peter Robinson, saying Mr Larkin was unsuitable for the job: "I believe that personality ought to be changed", it said.
'Personality'
He warned the first minister that an attorney general had to be, "someone whom you must implicitly trust and who you know, once appointed, will be difficult to remove".
Mr Paisley also wrote: "I think the government should steer away from appointing this controversial personality, who will only seek to build on his growing ego to the detriment of the government, and dare I suggest, the personal embarrassment of ministers not least yourself."
The politician, who was a DUP MLA at the time, told the first minister that he should consider other people for the position.
"There are numerous other safer candidates, not least for us as a party that I believe we ought to consider. You may be aware of the fact that Mr Larkin unfortunately has form regarding his misconduct," Mr Paisley said.
Ian Paisley Jr was referring to a case back in 2005 when disciplinary proceedings were taken against John Larkin. He was found guilty on two charges of professional misconduct.
One charge related to him failing to maintain good relations with another member of the bar and declining to accept instructions from a solicitor. He was censured for his conduct and fined £5,000.
Ian Paisley ended his letter to Peter Robinson in August 2009 with a final plea about John Larkin.
He wrote: "I believe the government would be mad to make this appointment and should consider a way to change this before it is ratified."
History
In an unrelated case, Ian Paisley Jr personally complained about John Larkin's behaviour in 2009 when the then QC appeared in the High Court.
The DUP politician was potentially facing prison for refusing to name a source and Mr Larkin said: "Mr Paisley appears to want it too much. Brandishing custody before Mr Paisley appears to be like brandishing a whip before Max Mosley."
The professional conduct committee of the Bar Council examined the complaint and concluded it was a legitimate use of language. No further action was taken.
The BBC asked John Larkin to respond in an interview to Ian Paisley's letter but he declined. Instead he issued a statement saying: "The decision to appoint the attorney general is not a matter for me; it is a matter for the first minister and deputy first minister acting jointly.
"Mr Paisley Junior expressed his views about my proposed appointment in August 2009. The first minister and deputy first minister made the present appointment in May 2010."
The Office of the First and Deputy First Minister also declined a request for a comment.
The DUP MP Ian Paisley also declined to be interviewed and simply said it was "a private matter ".