285 staff to be made redundant by Liberty Insurance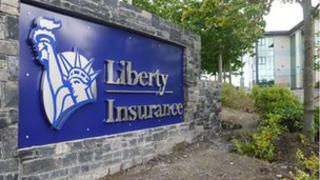 A total of 285 staff are to be made redundant by Liberty Insurance, the company that took over Quinn Insurance.
Workers are being told at staff meetings that 70 redundancies will be sought in Enniskillen, 75 in Cavan town and 150 in Blanchardstown in Dublin.
It is understood the redundancies are voluntary but the company has not ruled out compulsory job losses.
Two years ago, there were 900 redundancies at the same firm.
The Enniskillen operation currently employs 398 staff - this will reduce to 328.
Liberty Insurance has told its employees the move is necessary to secure the future of the company.
Liberty took charge of Quinn Insurance from the administrators last year but under the deal it was not liable for historic losses - estimated at up to 1.6bn euros - most of which relate to the UK market.
As a result, all insurance policies in the Republic of Ireland - with the exception of health and travel - carry a levy of two per cent to pay back the government's insurance compensation fund.
Due these huge historic losses, the administrators wanted to leave the UK market but Liberty has now decided to take on that business directly.
The company says that means they have secured jobs for 415 staff - more than one third of the ongoing workforce - who will continue to work on UK policies.
Liberty's director of operations, John McDonagh, said the news was a "big blow all over and particularly big for smaller communities like Enniskillen and Cavan".
"People have given a lot and it's been a difficult time for a number of years," he said.
Mr McDonagh said there were a number of reasons why the job losses were necessary.
"We've been carrying a surplus capacity since Liberty acquired the business 12 months ago," he said.
"We didn't want to address that until we knew exactly where we were going in relation to the Northern Ireland and Great Britain market.
"We are now trading in Northern Ireland and we will be trading in Great Britain from December.
"The general economic conditions are very difficult and the insurance sector is in decline. This year it's about six per cent lower than it was last year. What we're doing is trying to secure the 1,157 jobs that will still remain."
He said the firm did not expect to make further redundancies.
"We are committed to the Northern Ireland and Great Britain market, but I do have to say we are going to be cautious and prudent about how we underwrite the business there," he added.